Ever since I first tried the capers (capperi) from Pantelleria I've been totally addicted to them. My friends in Sweden and New York that cook obsess over them. Now and then I receive messages saying: please send more Capers! Yesterday I got an urgent note from my sister with a picture of an empty caper bag to illustrate the desperation.
In New York I could find other Sicilian capers, which are really good, but simply do not compare to the Pantescan capers… It's the simple reality that this little island grows the best capers there are to find. Amazing how one little flower bud preserved in sea salt gives so much flavor. Last weekend we had great weather and we hung out with friends all Sunday in the tiny fishing village of Gadir. All of us made two or three dishes to bring for a pot luck picnic. One off my contributions was this foccacia bread. It is perfect for a buffet or picnic.
Wish you all a great weekend/ Anna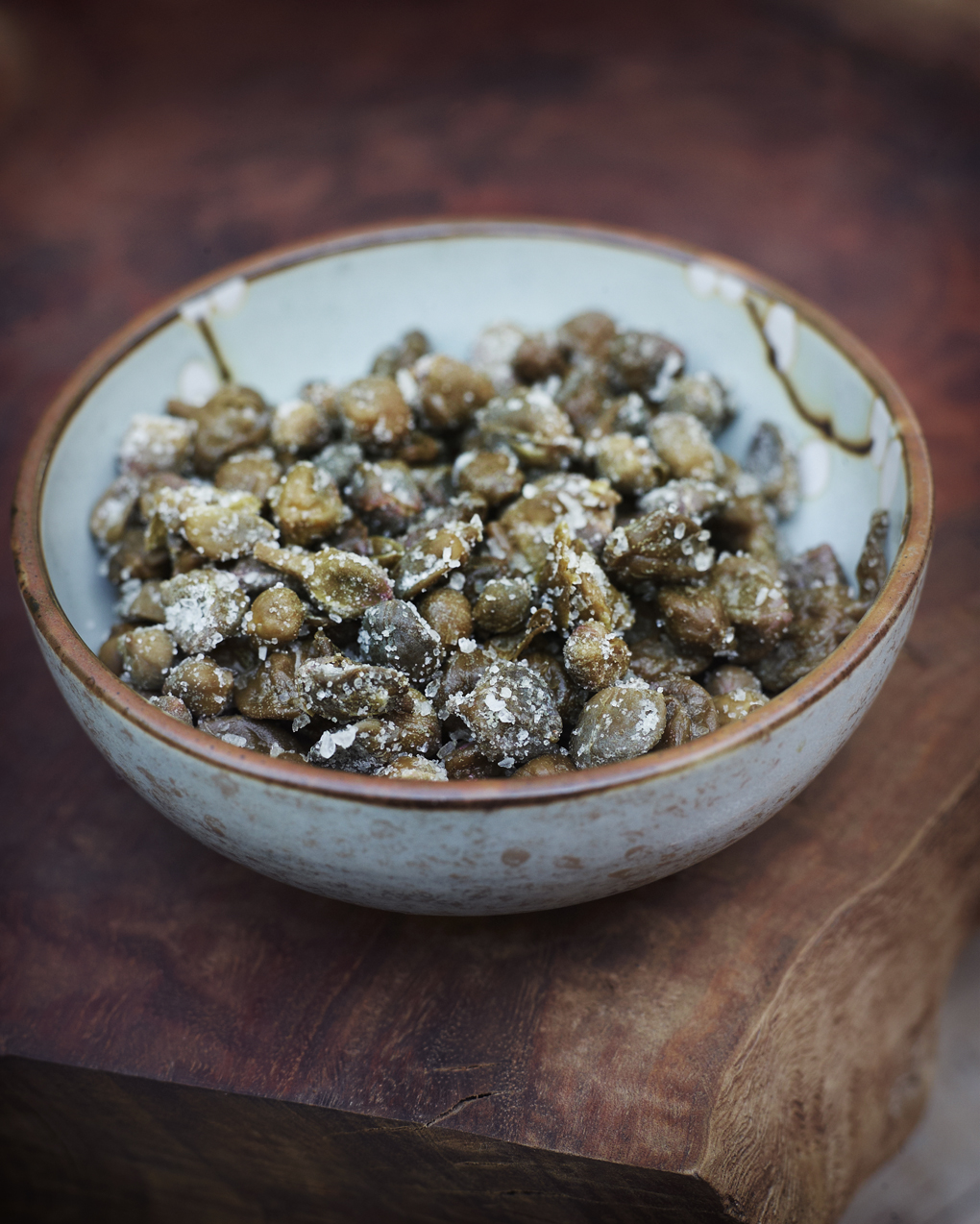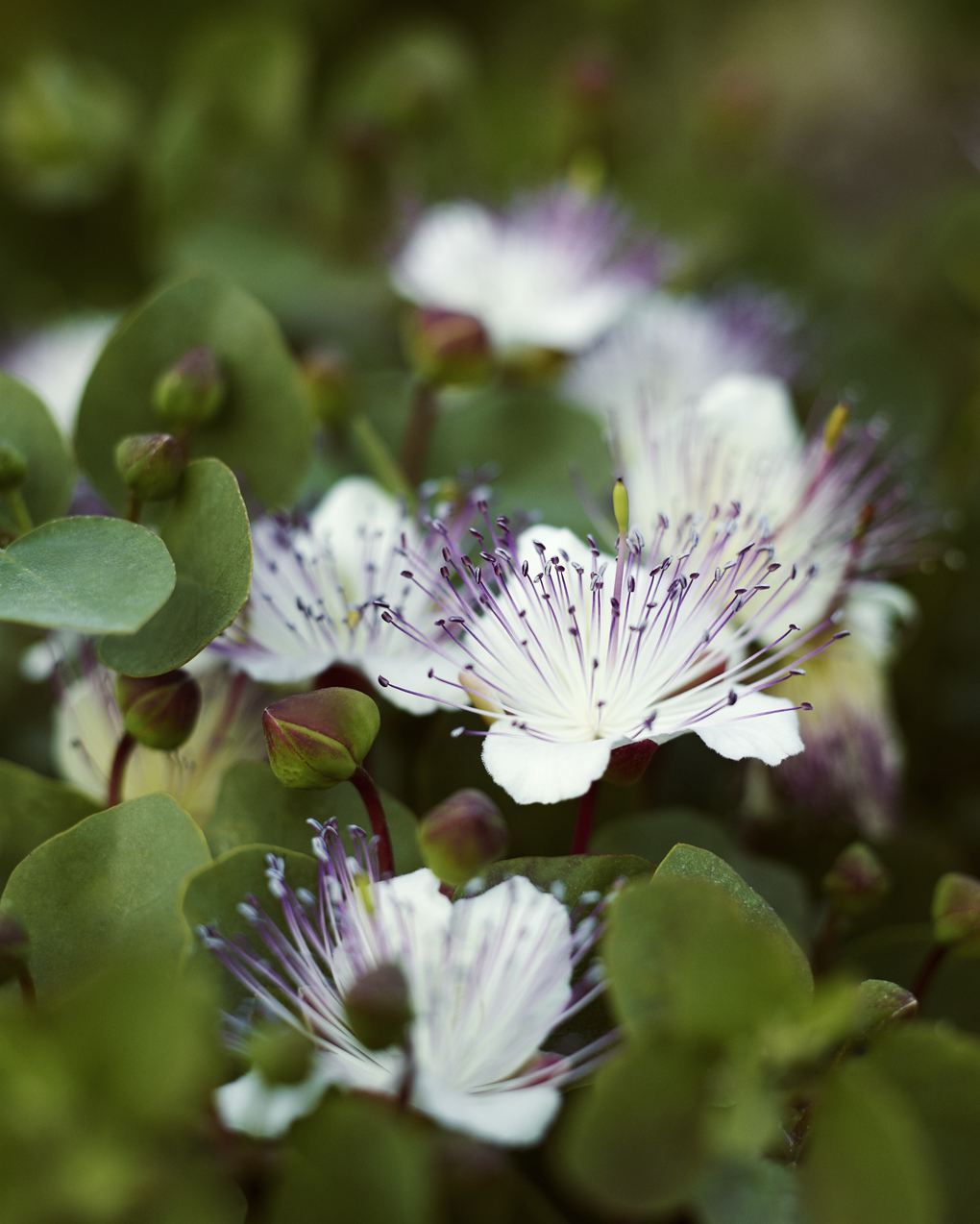 Focaccia alla Pantesca
Serves 10
Ingredients for the dough:
25 gram fresh yeast
3  cups (7.2 dl) all purpose flour
1/2 teaspoon sugar
1 cup (2.4 dl) luke warm water ideally no warmer then body temperature
1/2 (1.2 dl) cup olive oil
1/4 cup olive oil for the baking tin.
Ingredients for toppings for the Foccacia:
1/2 medium sized red onion cored and sliced
1 Tablespoon salt cured capers from Pantelleria
1 teaspoon oregano from Pantelleria
1 sprig fresh rosemary
1/4 cup(0.6 dl) olive oil
1 teaspoon sea salt flakes (I used Maldon)
Method:
Crumble the yeast in a mixing bowl and mix with lukewarm water and sugar. Cover bowl with plastic wrap and set aside in a warm place or in the sunlight for 15 minutes. This is called blooming the yeast
Once yeast has bloomed add olive oil to the mixture and begin adding flour at 1 cup at a time and working the mixture into a dough. The dough should come together and the bowl should have no flour sticking to the sides. Next on a clean flat surface sprinkle some flour and place the dough on top and knead the dough for 15 minutes.
Place  the dough back into an olive oil coated bowl cover with a clean cotton kitchen towel place back in the sun or a warm place and allow the dough to rise to double its size should take about 40 minutes. Preheat the oven to 400 F ( 200 C) degrees.
Take out an oven tray or baking tin, brush the bottom and edges with olive oil and sprinkle some salt flakes, don't be skimpy on the olive oil use a 1/4 cup ( 0.6 dl)
Place the dough into the tray or baking tin shaping the dough to the size of the pan. Next place the  onion slices, rosemary, capers, oregano and drizzle some more olive oil over. Cover with a clean towel and place the pan in a warm place or the sun and allow to rise a second time for about 30 minutes.
Bake in the oven until golden for about 10 -12 minutes.
To buy capers and oregano from Pantelleria go to http://shop.underthealmondtree.com/products ships to all Europe and US adresses.
Read more about the love for capers from Pantelleria at my friends Amy and Peters blog http://flourishnourishinpantelleria.blogspot.it/2011/07/great-caper.html