At the beginning of March my friend Dallas gave me a bunch of his father's onion plants. The other morning, four months later, we picked these lovely big red onions. Carlo made onion braids to hang in the kitchen and I made an onion tart.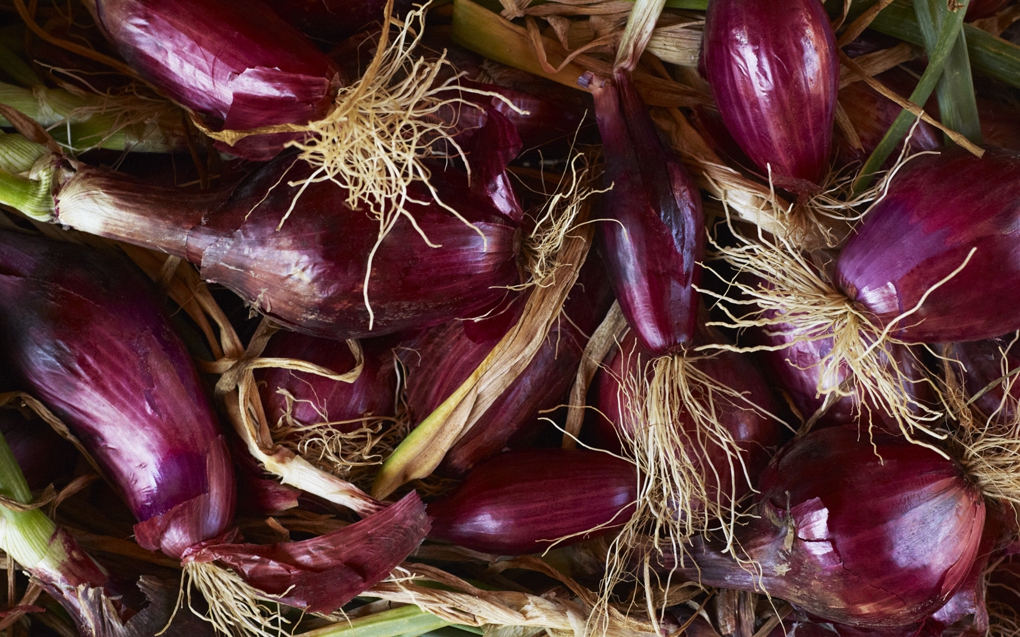 Caramelized red onion tart
Serves 6 as appetizers or make bite sized pieces as a cocktail snack for 6 people
Ingredients
5 large red onions about (500 grams)
2 cloves of garlic
1/4 cup (0.6 dl) olive oil
1 bay leaf
3 Tablespoons balsamic vinegar
3 Tablespoons granulated sugar
1 teaspoon Origano di Pantelleria (oregano)
Salt and pepper
9-10 oz (275 grams) of puff pastry
12 black olives (preferably oven or sun dried)
2 Tablespoons of Capers from Pantelleria ( rinsed and drained) http://shop.underthealmondtree.com/
6 anchovy filets
1 egg for brushing the pastry edges
Method
Cut the onion in thin rings or slices, chop the garlic finely and saute in a hot skillet with the olive oil. When the onions have softened, add the balsamic vinegar, sugar, bay leaf and half of the oregano.
Let the onions simmer on lower heat so that the sugar will caramelize.
Season with salt and pepper
Cut the anchovies into smaller pieces.
Place the puff pastry on nonstick oven paper, spread the caramelized red onion mix. Add olives, capers and the pieces of anchovies and fold up an edge of the pastry and brush with the beaten egg.
Bake at 400 F (200 C) for about 10 min.
Sprinkle some extra Origano di Pantelleria (oregano) just before serving
My dear and beautiful friend Lisa is visiting from Sweden, so this week we celebrated with many aperitivo gatherings- hors d'oeuvres in the garden.
This recipe is a perfect cocktail snack or can be served as an appetizer.