The scent of roasted chestnuts always makes me think of the first winter I lived in Paris. I was 20 years old, a student, and it was the first time that I lived abroad.
Paris was in every way magnificent- the food, the people, the cafés and restaurants, the art museums, and, of course, the clubs where went dancing. At that time Le Bains was the number one place to go, and we didn´t miss many nights.
I also recall the joy of just walking the streets, taking in all of the Parisian atmosphere and that scent of roasted chestnuts that were sold on the street corners. That winter my two friends and I shared an apartment on Rue des Archives in the quartiere Le Marais. We were poor but thrilled by all the adventures that our new city had to offer.
Now when the chestnut season arrives I want to roast them and eat them with butter and salt as an appetizer or as a night snack in front of the fireplace with a glass of red wine.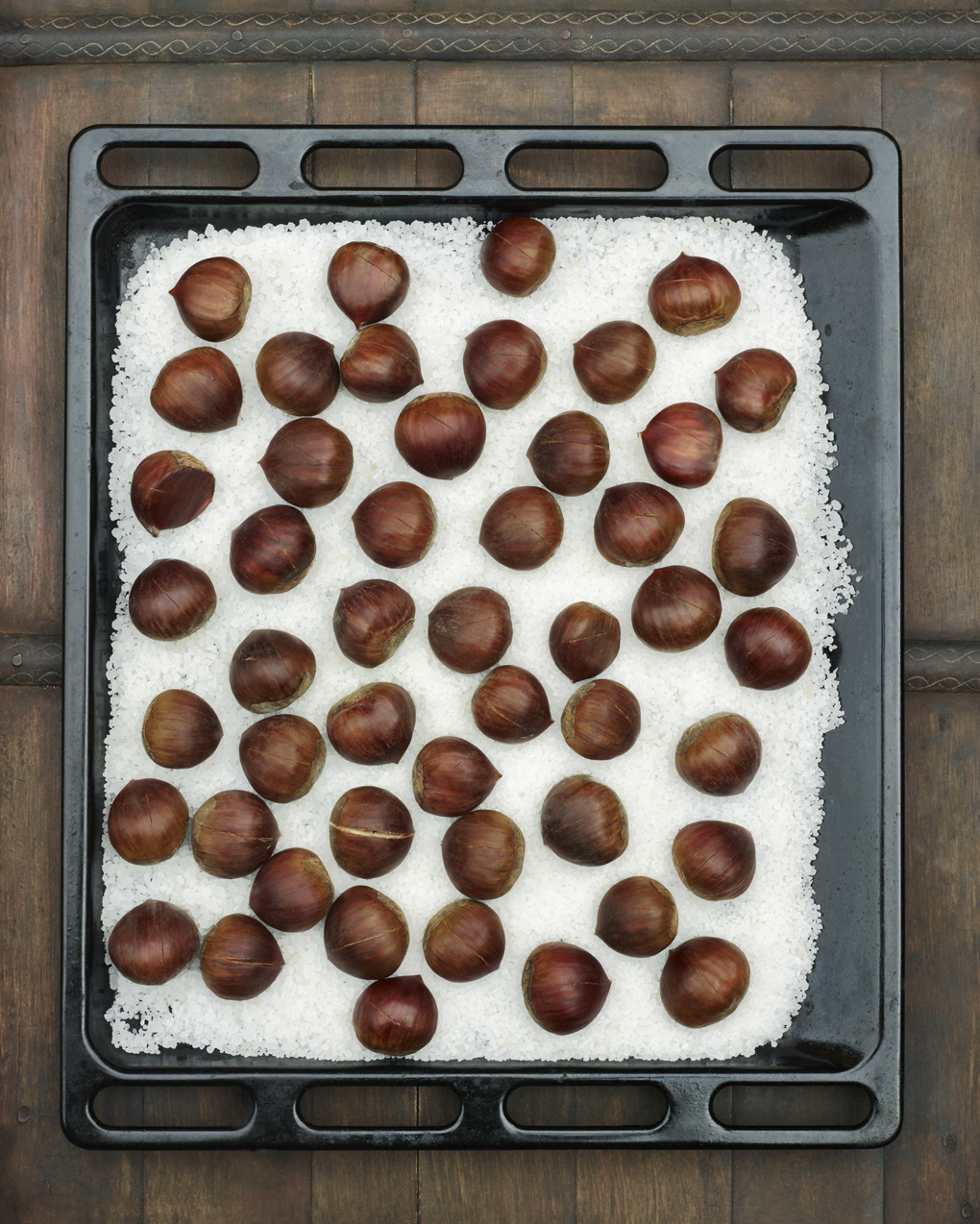 Oven roasted chestnuts
Serves 4
Ingredients
50-60 chestnuts
1 lbl (450 grams) of coarse salt
Method 
Preheat the oven at 425F ( 225 C).Cut a large cross about 1/8-inch deep through each chestnut shell, just into the flesh of the nut.Spread out an even layer with the coarse salt on an oven tray and place the chestnuts facing with the cross up. Bake the chestnut for about 25 minutes.Serve with butter and salt or make a thyme and lemon butter that will go excellent with your roasted chestnuts.
Lemon and thyme butter
Ingredients
2 shallots
1 tablespoon of olive oil
1 tablespoon of white wine
7 ounces (200 grams) of butter (at room temperature or softened)
1 tablespoon fresh thyme sprigs or dried
2 tablespoons lemon juice
1 tablespoon lemon peel
salt and pepper

Method
Chop the shallots finely and brush them in a small saucepan with the olive oil, until they are soft and golden. Add the wine and cook for another minute.
Pour the shallots in with the soft butter and beat the butter airy by using a hand whisk. Then add the remaining ingredients and season with salt and pepper as desired.