Spaghetti alla puttanesca is a flavorful, spicy and delicious pasta. The original recipe is with anchovies, tomatoes, olives, garlic and capers. This pasta has become a recurring classic dish in my kitchen. You could easily exclude the tuna and replace it with a couple of more anchovies as the original recipe. Just make sure you taste as the sauce cooks so it doesn't get too salty.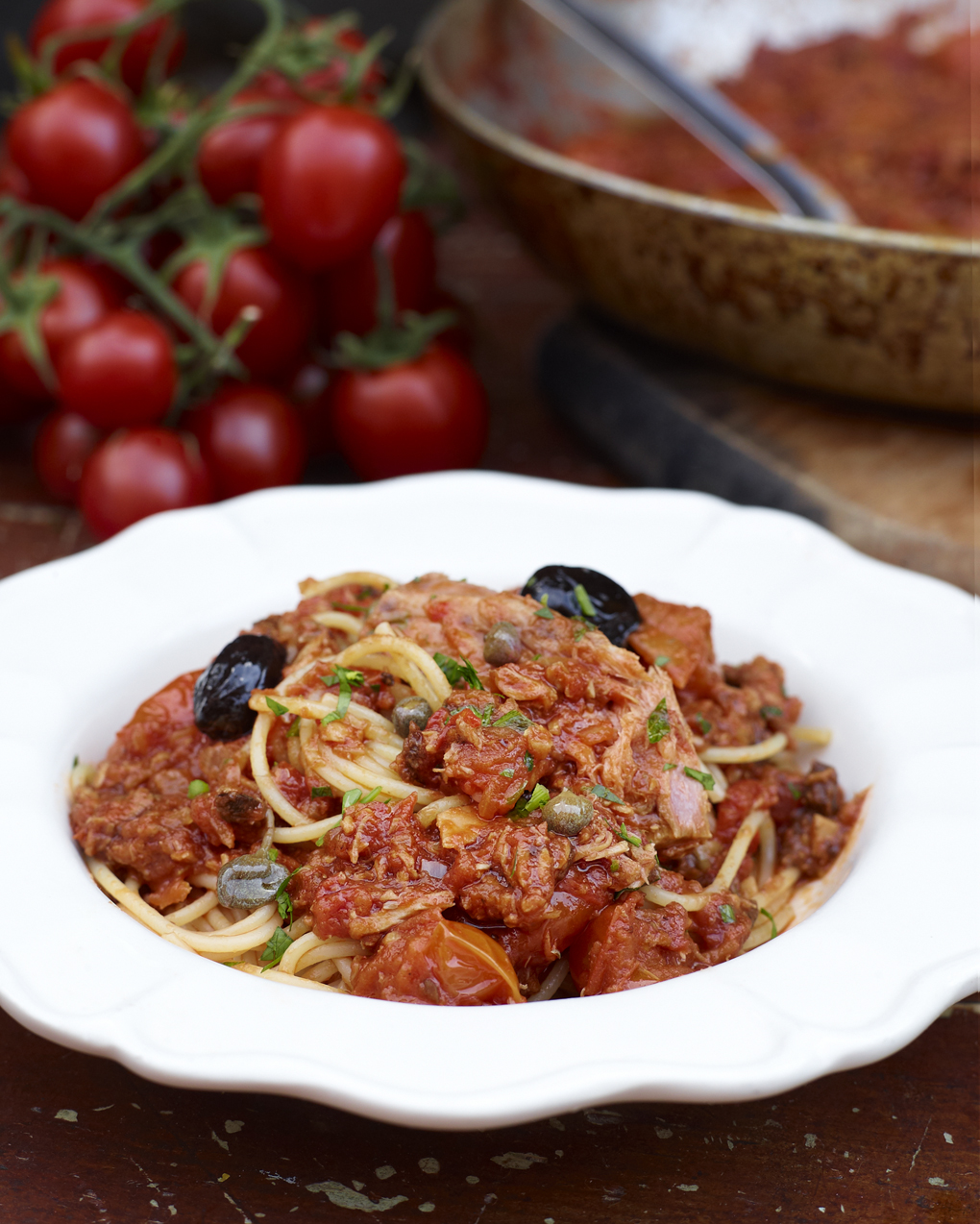 Spaghetti alla puttanesca
Serves 4
Ingredients
1 lbs ( 450 gram ) of spaghetti (cook al dente according to the instruction on the package)
1 fresh red chili finely chopped or 1 tsp dried chili flakes
4 cloves of garlic finely chopped
1/2 medium sized yellow onion finely chopped
3 Tablespoons olive oil
6 filets of anchovies roughly mashed in pieces using a fork
16 pitted and chopped black olives
3 Tablespoons of capers from Pantelleria! http://shop.underthealmondtree.com/  
(make sure you drain the capers first in cold water before adding to the sauce)
12-15 cherry tomatoes
1 can chunky style tomatoes
1/4 cup (0.6 dl) white wine
7 oz ( 200 grams) of good canned tuna in olive oil
2 Tablespoons of grind lemon zest
4 Tablespoons of finely chopped flat leaf parsley
Method
Heat a large pan and add oil, garlic, chili, onion and the anchovies. 
Sauté until it is soft and the ingredients have melted together. Add cherry tomatoes, white wine, canned tomatoes, capers and olives. Season with sugar, black pepper and salt as needed. Make sure you test the saltiness before you add any salt. Most likely, the anchovies and capers will provide all the salt you'll need.
Cook the spaghetti according to the instructions on the package.
Let the sauce cook together for about 12-15 minutes, if it ends up a little dry add a little of your pasta water.
 One minute before serving, stir in the tuna and lemon zest and taste the seasoning.
 Mix the sauce with the spaghetti, sprinkle some parsley and serve right away.