This is the Pantescan variation of dried fruit cake, I can't resist using our delicious uva passa , sun dried Zibibbo grapes (raisins) from this summer. Marinated in Passito di Pantelleria it brings out the essence of the island into this cake.  Serve the cake as an Italian breakfast with coffee or as a winter dessert with a spoon of whipped cream or marscapone. The cake can keep at least a month if you can resist not eating it all up.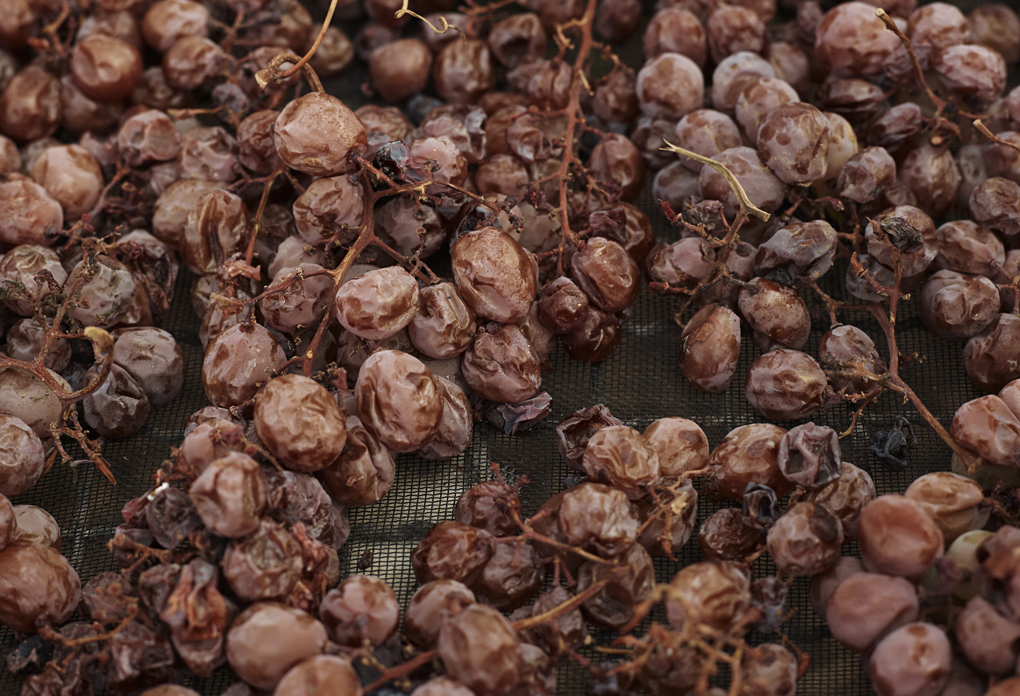 This is Zibibbo grapes drying in the sun, those became sweet delicious raisin now in my cake!
Uva Passa and Passito cake
Ingredients
9  Oz (250 grams) of  seedless uva passa or other raisins
1/2 Cup (1.2 dl) Passito di Pantelleria or other sweet wine like Marsala or Port
1/4 Cup (0.6 dl) almond flakes
1.2 Lb (545 gram) of soft butter
5 Eggs
3 Cups (7.3 dl) all purpose flour sifted
2 Cups (4.8 dl) sugar
Method
Marinate the uva passa with the Passito allow them to marinate  for at least 6 hours or overnight.
Preheat the oven to 350 degrees F (175 C).
Toast the almonds in a tablespoon of butter in a skillet over low heat.
The almonds should be toasted to a golden, be careful not to burn them.
Whisk the eggs and sugar until white and fluffy.
Whipped butter to a fluffy and soft.
Combine in batches, the egg mixture with the sifted flour into the whipped butter. Add the uva passa (also add the left over Passito in to the batter) and almonds.
Pour the batter into  parchment paper lined loaf baking pan .
Bake at  350 F degrees (175 C) for at least 90 minutes.
Check with a toothpick so that the cake is dry in the middle, if not continue baking and check every 10 minutes.
Let the cake cool down, wrap in foil and let rest until time to serve.