Christmas time is just around the corner, my favorite Italian christmas sweet is a spicy , chewy fruit bread that 's called Paneforte. Its tradition are rooted deep in Siena and has been made by nuns since the twelveth century. The recipe has been pretty much remained unchanged, just a little change was made in the eighteenth century when chocolate became popular in Europe, and off course was added to this recipe, put all goodies you can get in the cake!
In this recipe Im using Pantellerias uva passa and Passito wine, if you don't have this on hand you can use other raisins and exchange the Passito to Marsala or Port wine. You can make this Paneforte in good time before serving, well wrapped and contained it holds at least for 3 months.
Wish all of You a Merry Christmas
/ Anna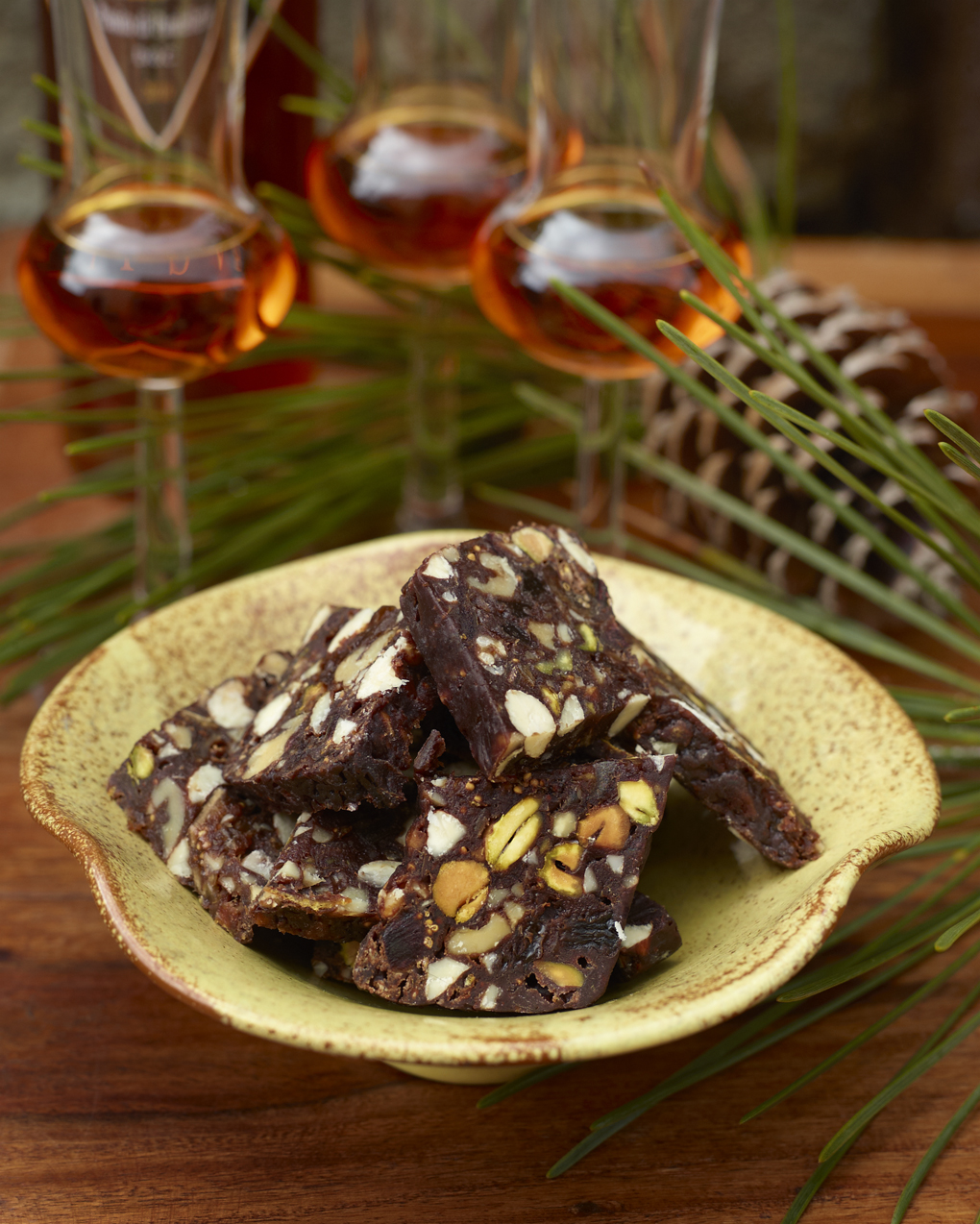 Ingredients
1/2 Cup (1.2 dl) uva passa or raisins
1/3 Cup (0.8 dl) Passito di Pantelleria
1 Cup (2.4 dl) almonds
1 Cup (2.4 dl) walnuts
1/2 Cup (1.2dl) pistachios
2 Cups (4.8 dl) of mixed dried fruits
1 Orange (use only the orange peel)
1/3 Cup (0.8 dl) flour
1 teaspoon grounded cinnamon
A pinch of clove powder
1 teaspoon sea salt  flakes
1/2 Cup (1.2 dl) honey
1 Cup (2.4 dl) caster sugar
5 Oz (150 grams) dark chocolate ( 70%)
Method
Remove the core in the uva passa and pour over the Passito wine.
Let stay for 1 hour.
Line a baking dish with nonstick paper and set the oven temperature at 350 F
(175 C) degrees
Dry toast the nuts lightly in a skillet on the stove over low heat, then chop the nuts roughly.
Remove the stones if using dried fruits with core, (for example dates) and chop the fruit roughly as well.
Grate the orange skin and mix together with fruits, nuts and the uva passa.
Don´t throw out the reamaining Passito wine!
Mix the flour and the spices well and after mix together with the fruit and nuts.
Crumble the sea salt between your finger and stir it all together.
Break the chocolate into pieces.
Melt the honey and sugar in a heavy saucepan on medium to low heat.
Once the sugar has dissolved add the chocolate and the leftover Passito wine.
Stir the bottom of the pan ( to make sure the sugar don't burn) and simmer for a few  more minutes.
Pour into the bowl with the other ingredients and mixed thoroughly. Pour the paneforte batter into the cake tin and bake at the bottom of the oven at  350 F degrees ( 175 C)  for 15 -20 minutes.
Once the cake has completely cooled, wrap tightly in plastic wrap  or waxed paper and store in a  dry place.
Cut in pieces before serving.