I have a new favorite thing , it's roasted vegetables. The other day I tried to roast cauliflower in the oven, the result came out delicious. This green cauliflower has the same taste as the white one, and I got this particular one from my friend and neighbor Giovanni. I divided the cauliflower in little bouquets, tossed with garlic, olive oil, salt packed capers placed into a pan and roasted them in the oven. It' was simple and the taste divine! To add with a pasta, may I suggest to follow the recipe below. If you don't find the uva passa, use another raisin but don't skip it, the fruity sweetness twist adds an extra dimension.
Buon appetito!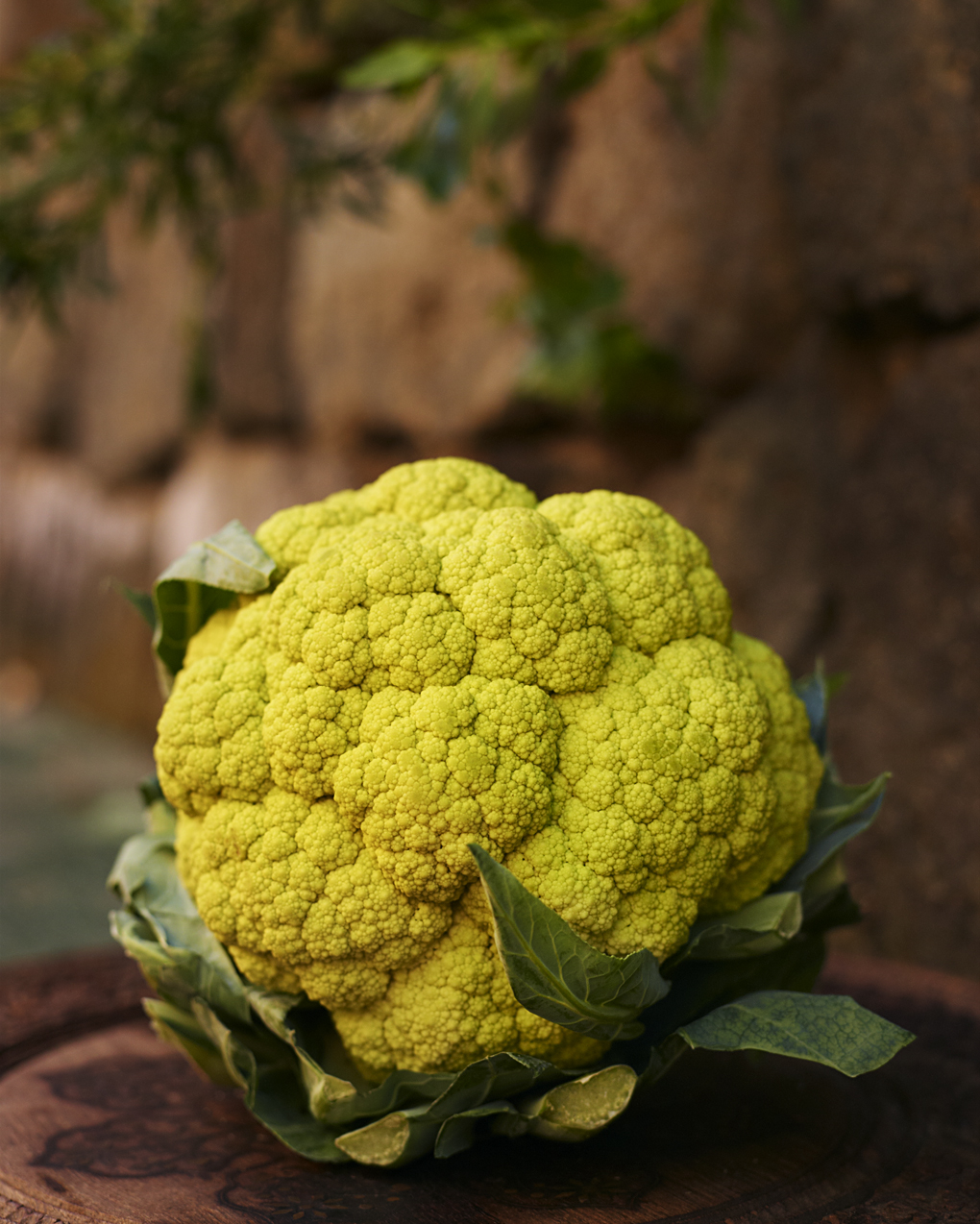 Pasta with roasted cauliflower and capers
Serves 4  
Ingredients
3/4 Cup  (1.8 dl) olive oil
4 Garlic cloves pressed or finely chopped
1 Medium sized cauliflower, remove the florets from the core cutting them into fork sized portions.
4 Tablespoons Capperi di Pantelleria or other salt packed capers, rinsed
Fresh ground black pepper to taste and a little sea salt
3 Tablespoon uva passa or raisin, remove seeds and blanch in warm water to plump the raisin.
1 Lb ( 450 gram) dried pasta
4 Tablespoon pine nuts
1 Cup ( 2.4 dl) grated Parmesan cheese
1 Lemon, zest only
10 Sprigs of fresh parsley
Method
Heat the oven to 400F ( 200 C) degrees.
Combine olive oil, garlic , capers and black pepper in a bowl.
Season with sea salt but be careful not to add to much considering the capers will add some extra salt, even after rinsing.
Add the cauliflower bouquets and toss.
On a baking sheet spread the cauliflower evenly and bake in the oven until golden for about 10-15 min.
Dry toast the pinenuts slightly in a saucepan. They toast quickly so use low heat settings and don't leave the saute pan on the stove unattended and move the saute pan during toasting, when golden brown remove from the saute pan and set aside for later, otherwise they will continue to toast from the carry over heat absorbed by the oils inside the nut and will easily burn.
Chop the parsley.
Wash and zest the lemon.
Plump deseed and chop the uva passa roughly.
Cook Pasta al dente (30 sec to 1 min less) than suggested on the package, drain in a colander, save a cup of pasta water on the side.
Mix pasta with parmesan cheese, the baked cauliflower and caper mix, make sure add any remaining oil left in the bowl.
Adjust the consistency by adding a little of the remaining pasta water if needed.
Add the pine nuts, uova passa (raisins) stir and sprinkle parsley and lemon zest over and serve immediately.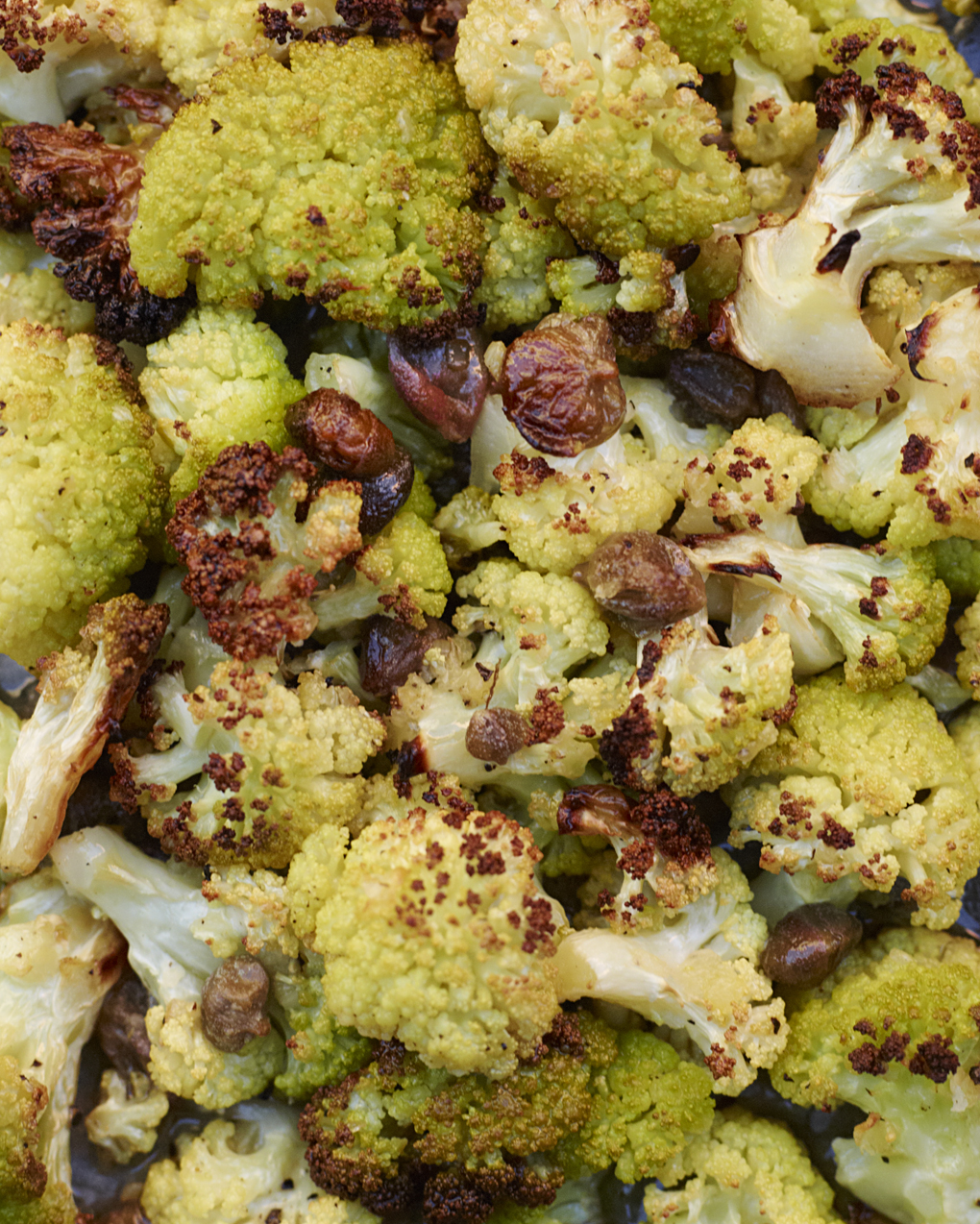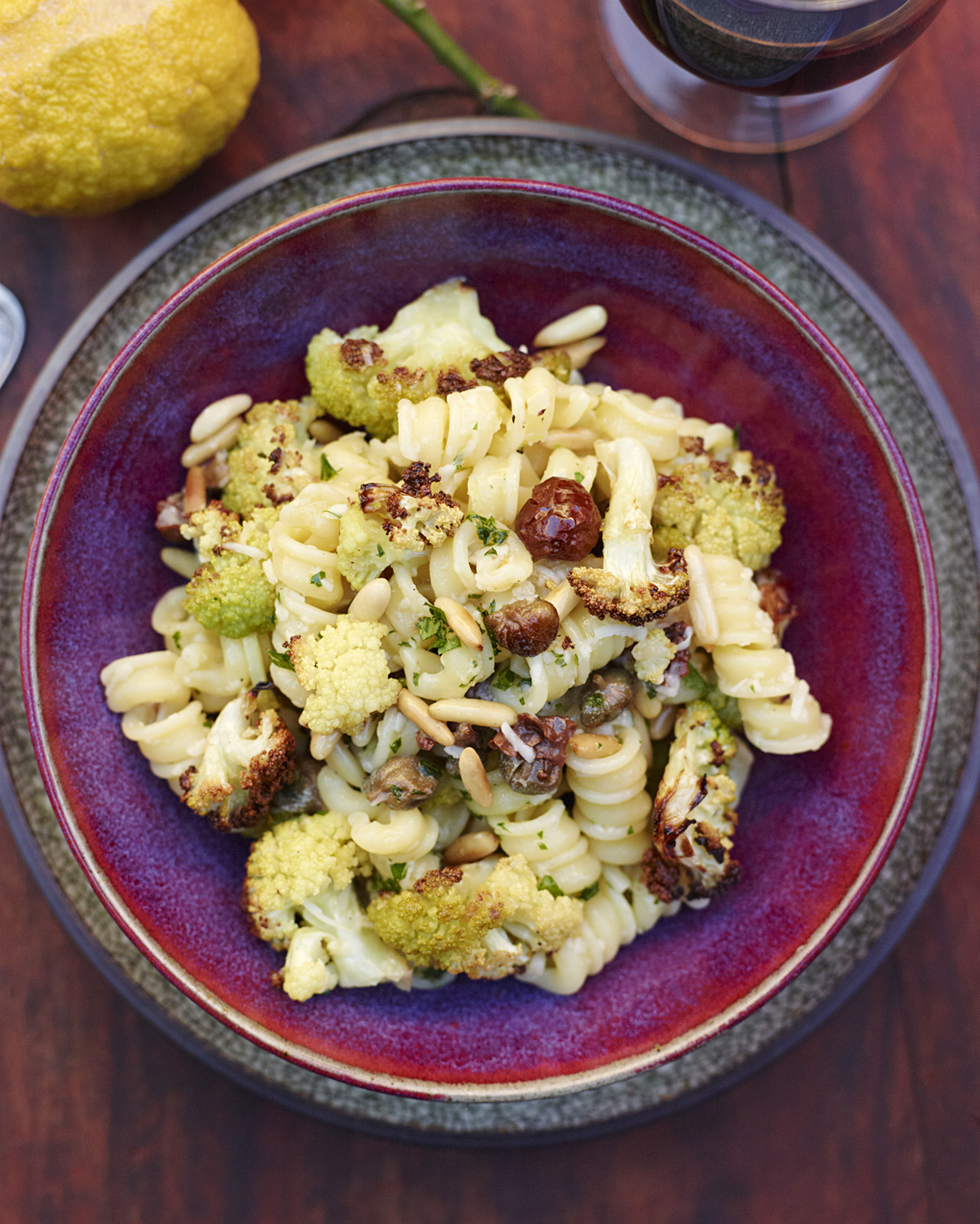 Dinnerplates from NEW KAM MAN http://www.newkamman.com/
Capperi di Pantelleria, buy them here http://shop.underthealmondtree.com/product/capers