This is my local take on Maraschino cherries, but instead of Maraschino liqueur I used our local sweet wine, Passito di Pantelleria. Originally maraschino cherries were made from marasca cherries (originated in Croatia) which were then preserved in Italy's maraschino liqueurs. Since I am not using Maraschino liqueur, rather Passito di Pantelleria such as Sangue  d'oro  and the local cherries "Amarena". The cherries need to sit in the jar for about two weeks to really soak in the spices before serving. Eat the cherries as a dessert with or without vanilla ice cream, place them on top of a cupcakes or as a garnish to a whiskey sour.
Chin chin!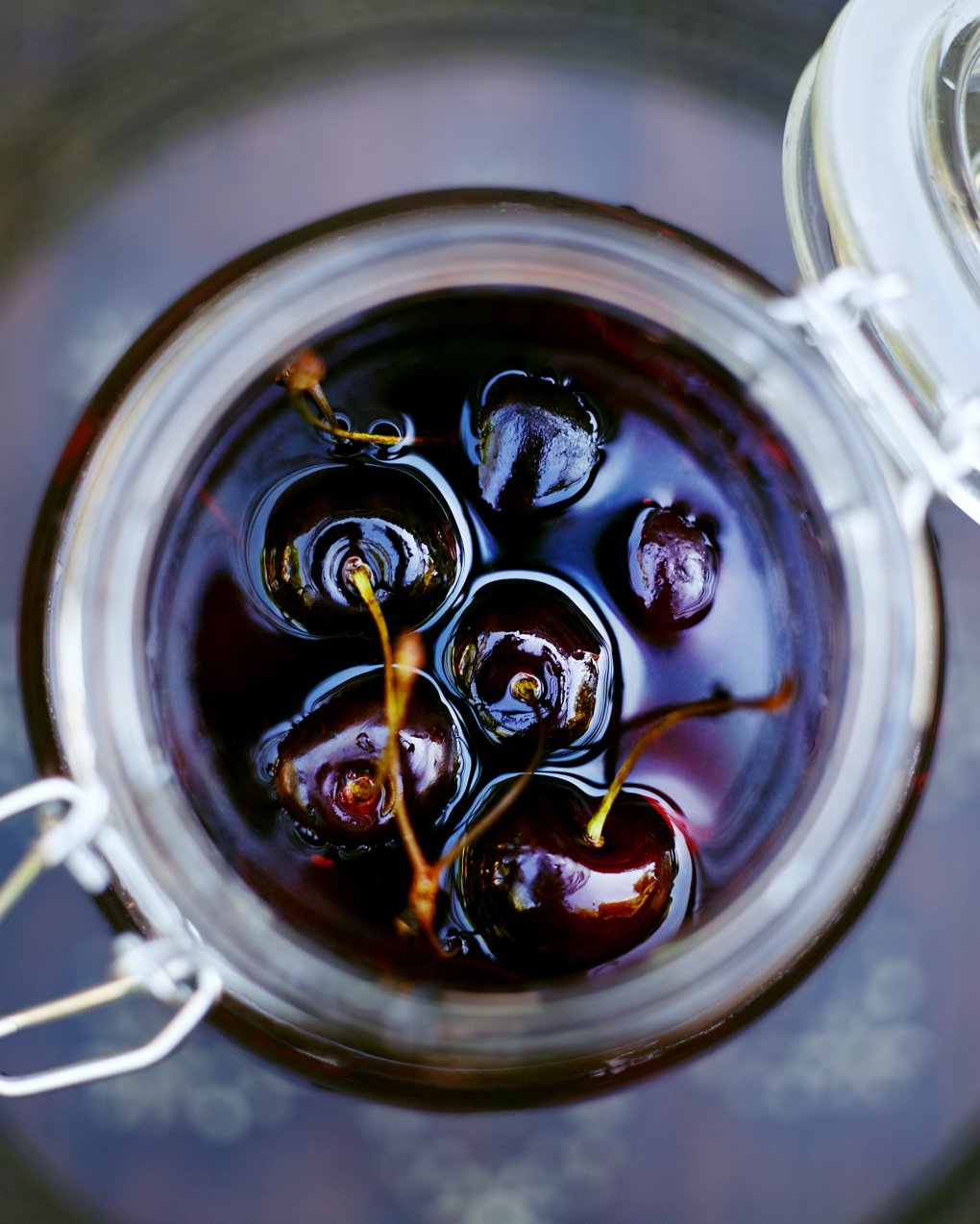 Passito spiced summer cherries
Ingredients
1 Cup (2.4 dl) sugar
1/2 Cup (1.2 dl) water
3 Tablespoon lemon juice
1 Cinnamon stick
1 Star Anise
1 Clove
A pinch of grated nutmeg
1 Vanilla bean cut and seeds scraped
2 LB (900 grams) sweet stoned cherries (use your local variety)
1 Cup ( 2.4 dl) of Passito di Pantelleria
Method
Wash and remove all the cherry's stones.
In a saucepan, combine all ingredients excluding the cherries and the Passito allowing them to come to a boil. Reduce the heat to medium. Add the cherries and simmer for 8-10minutes. Remove from heat, add the Passito and let cool.
Transfer the cherries and liquid into clean jars and cover tightly and refrigerate for two weeks.
Almond Bar's Whiskey Sour
Ingredients
1 part Bourbon whiskey
2 part simple syrup, recipe for simple sirup here
1 part lemon juice
1 Passito spiced cherry
Ice
Method
Mix all the ingredients in a shaker with ice, shake and serve with a cherry on the top. If it's a hot summer day serve with some extra ice.