This year we went all out with the tomatoes. We planted a bunch of different varieties hoping to get different flavors, colors and sizes. In these last few days we have harvested 10 -12 boxes every day. Carlo's granny Rosa is making tomato sauce to preserve for the winter. We are eating, giving away and paying for our breakfasts in the bar with tomatoes.

Panzanella is a traditional Tuscan bread salad. Here is a local version with anchovies and the Rolls Royce, the Bentley, rather, of capers "Capperi di Pantelleria."  This panzanella is a perfect light and satisfying meal to enjoy on a hot summer's day. Invite some friends for lunch, pop a chilled bottle of prosecco and dig in.
Panzanella Pantesca
Serves 6-8
Ingredients
1/2 Loaf of old white bread
1/2 Cup (1.2 dl) extra virgin olive oil
3 Each cloves of garlic
2 Pounds (1 kilo) of mixed variety of tomatoes
1 Red small sized onion
1 Fresh red chili pepper minced
1/3 Cup ( 0.8 dl) black olives
4 Tablespoon rinsed and drained salt packed capers ( Capperi di Pantelleria)
20 Small fillets of anchovies packed in oil (reserve oil for dressing)
1 Bunch of basil leaves
1 1/2 Tablespoon balsamic vinegar
2 Tablespoon of the oil that contains the anchovies
Sea salt flakes and fresh ground pepper to your taste
Method
Break bread into bite sized pieces, in a saute pan over medium heat, warm the oil add crush the cloves of garlic add to the pan, then add in a little sea salt flakes. Toast the bread in the pan with seasoned garlic oil until it's golden. Remove toasted bread from the pan place on top of a paper lined tray and set a side. Let any left over oil cool and reserve to use in the dressing.
Wash and remove the outer skin of the red onion. Cut off the stem side, lay flat on the cut surface and proceed to cut the onion in half. Remove the root core then length wise cutting stem to root cut the onion into strips.
Finely chop the chlli pepers, wash, core and cut the tomatoes into wedges.
Combine in a large bowl the bread, tomatoes and onions, capers, olives, anchovies and basil leaves.
In a small bowl whisk together, balsamic vinegar, rest of the olive oil, 2 Tablespoon of anchovies oil, the red chili, pepper and sea salt.
Pour dressing over the top of the bread, tomatoes and onions in the large bowl. Toss all ingredients as to combine everything, then, let the bread soak up the juice from the tomatoes and olive oil.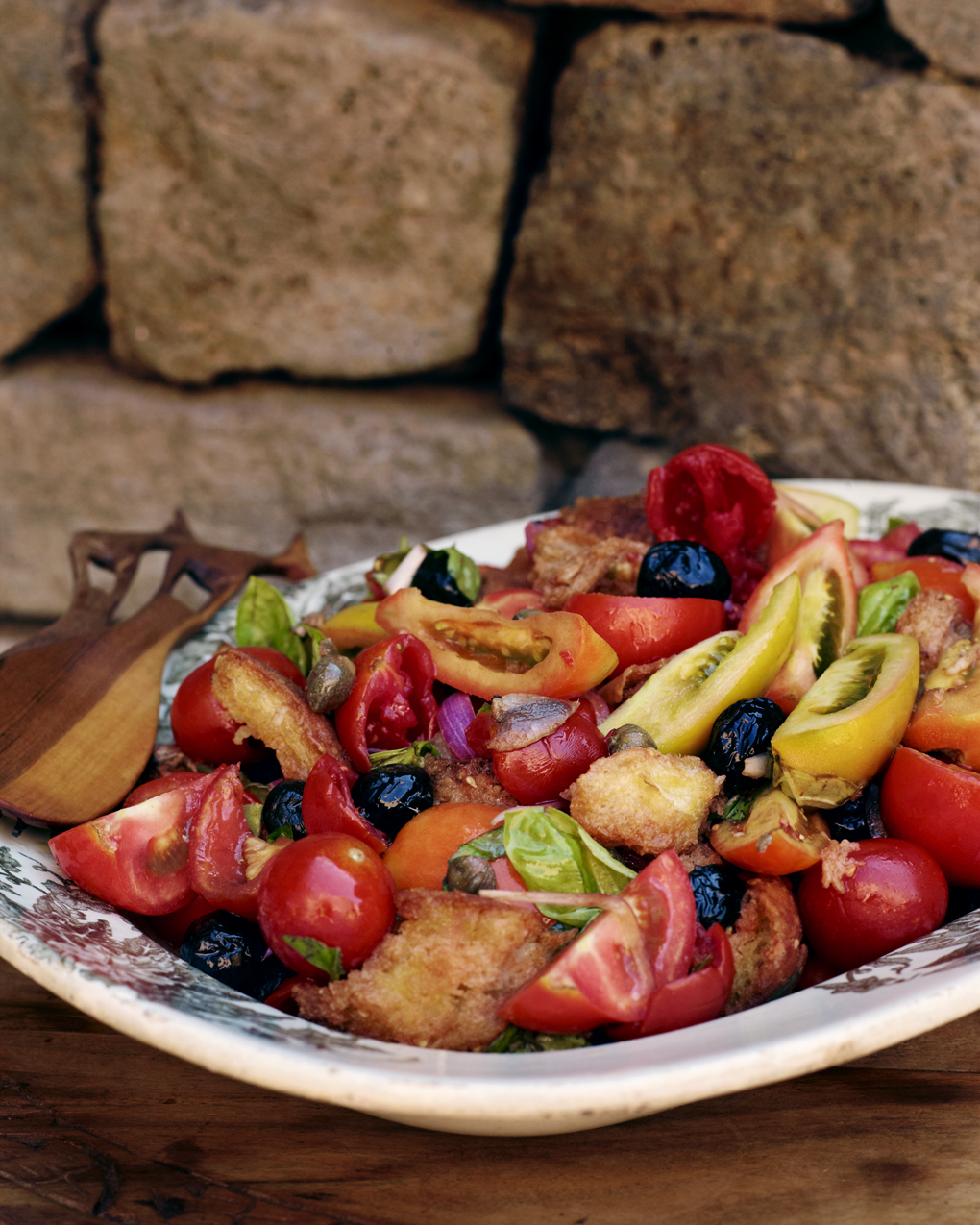 Get your Capperi di Pantelleria here!