Panna cotta literally means cooked heavy cream.
The main ingredients are cream sugar and gelatin, some recipes also include egg whites.
This dessert is originally from Northern Italy in the region of Piedmont (Piemonte), were back in the days people boiled the fish bones and getting collagen out of this process that was used as the first gelatin. Since I'm still fell  inspired from the almondtree in flowering I'm making more almond milk and flavor the panna cotta that I want to serve for my dinner guest this evening. To accompany this panna cotta I'm making a fruit compote made with oranges from the tree and uva passa from this summers grape harvest. Uva passa is the sun dried Zibbio grape, that you make the Passito di Pantelleria sweet wine of. This beautiful dried grape is a regular sweet here in Pantelleria and is used as a raisin in cooking and baking . To be honest it's actually the best bloody raisin I ever tasted… sun kissed sweet…. perfumed with a taste of nature from the volcanic soil of Pantelleria.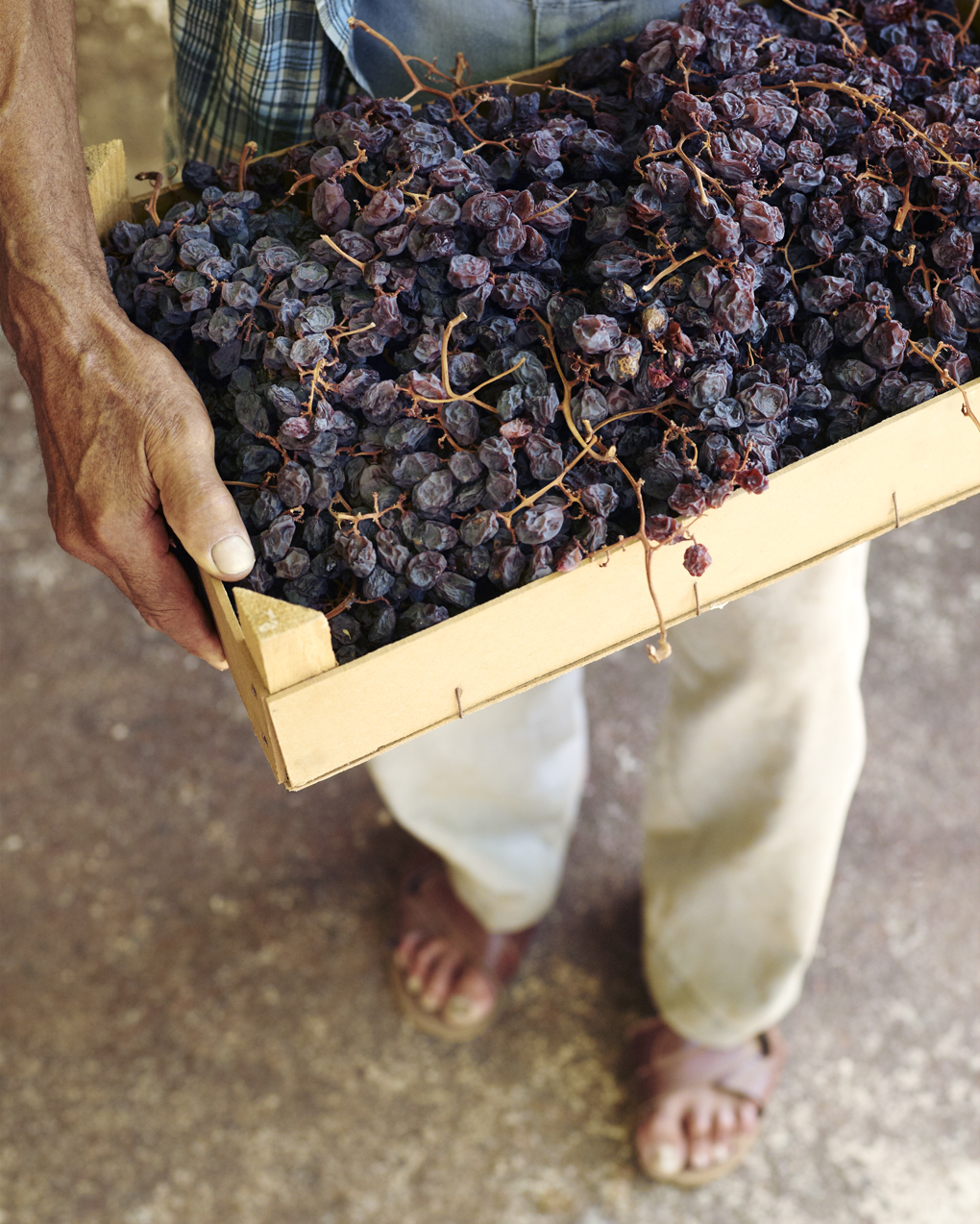 If you can't get hold of these uva passa you can exchange the uva passa to other raisins or for example use dried plums or just ad more orange or other sweet citrus fruits.
Here comes a recipe for almond panna cotta with uva passa and orange compote
Wish you all a great weekend.
/ Anna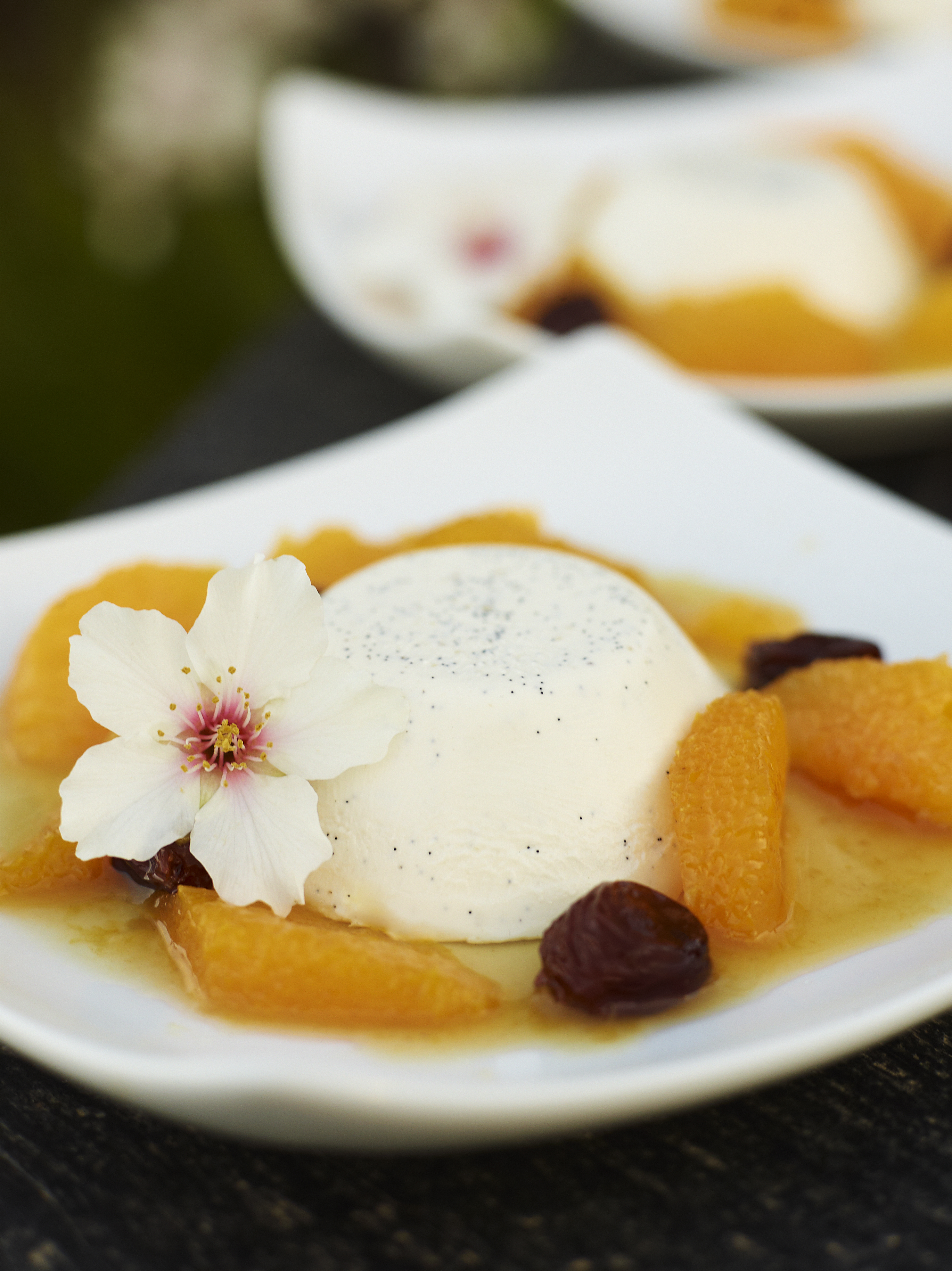 Almond panna cotta with uva passa and orange compote
Panna cotta
Serves 6
Ingredients:
2 gelatin sheets (bowl large enough to cover sheets with water)
1 cup (2.4 dl) almond milk
1.1/2 cup (3.6 dl) heavy cream
1/2 cup (64 grams) sugar
1 vanilla bean ( split lengthwise and seeded)
6 each ceramic ramekins or small coffee cups
1 table spoon of sunflower oil (for the ramekins)
Place gelatin sheets in a bowl and cover complete with cold water for 5-10 min minutes. Over medium size flame, in a sauce pan combine the cream, almond milk and sugar and heat until the sugar is dissolved. Lift the gelatin sheets from the water and stir into the hot cream until dissolved as well. Oil 6 ramekins or small coffee cups. Divide the panna cotta mixture evenly among each ramekin, set on a level shelf in the fridge,cover with plastic and let set for at least 3 hours.
Uva passa and orange compote
4 oranges
24 uva passa
1 cup (2.4 dl ) Passito di Pantelleria
1/2 cup (1.2 dl) sugar
Peel the oranges by cutting the skin off using a sharp kitchen knife.
Cut the oranges into medium sized chunks. Deseed the uva passa.
In a small but heavy sauce pan, pour the Passito di Pantelleria wine and sugar to boil.  The sugar should dissolve and the liquid must reduce to half (on my gas stow this takes about 5 min). Stir constantly all the way to the bottom of the pan when it is boiling, so as to avoid burning the sugar. Add the fruit and set a side until serving.
When serving:
Run a sharp knife around the edges and flip on to serving plates.
Spoon up the compote cooled to room temperature around the panna cotta.